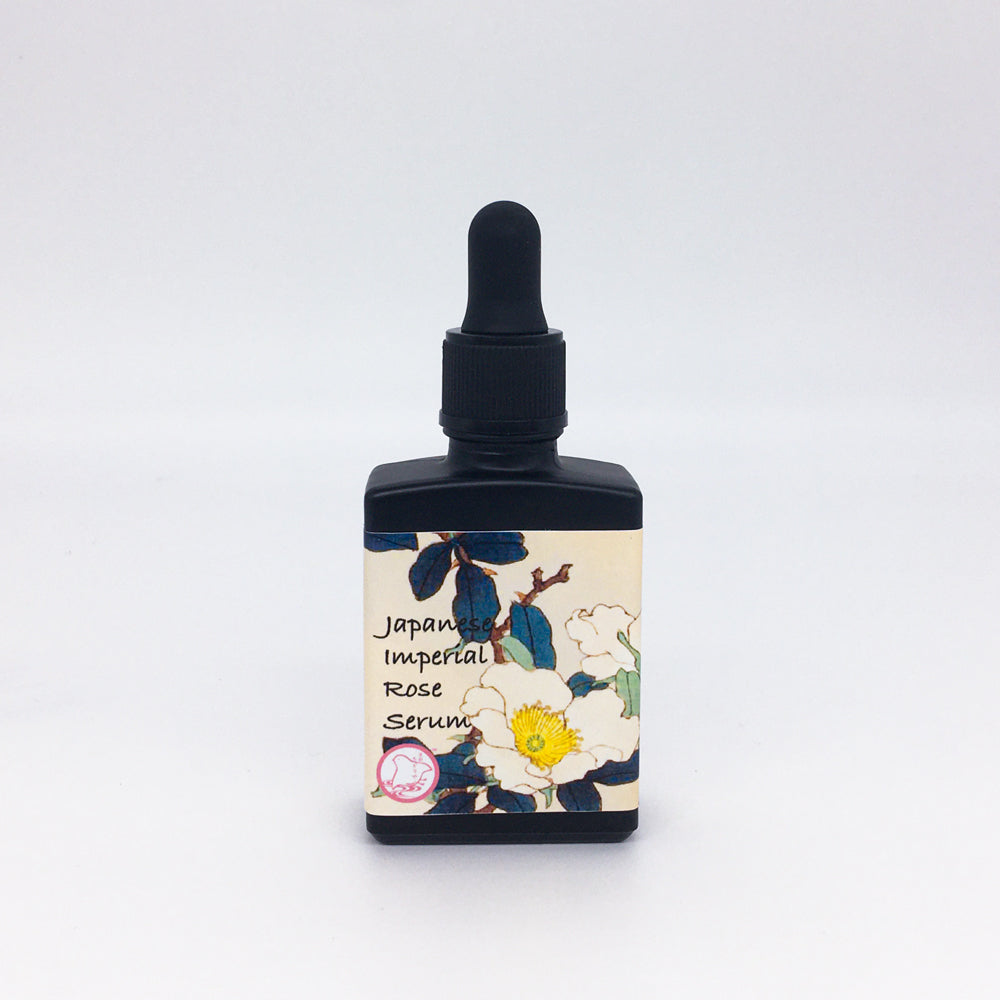 INGREDIENTS
Water (Aqua), Rosa Rugosa "Hamanasi" Flower Water* (
Vitamin C & polyphenols)
, Vegetable Glycerin* (Made from rapeseed oil), Rosmarinus Officinalis Rosemary Flower Extract* (anti-inflammatory, antioxidants), Fermented Rice Extract*, Saccharum Officinarum (Sugar Cane) Extract*, Aloe Barbadensis Leaf Extract* (healing, soothing & moisturizing properties), Xanthan Gum( Non- GMO), Laminaria Ochotensis Extract* 
(Kombu-seaweed)
, Rosa Damascena Flower Oil*, Thymus Vulgaris (Thyme) Extract*, Yuzu Citrus Junos Seed Extract* (antioxidants), 
Eriobotrya Japonica Leaf Water* (loquat leaf).
 All * are wild-crafted or organic certified ingredients.
NET WT. 30ml / 1 fl. oz.   Made in Japan
Ingredients index
Fermented Rice Extract*
A humectant, Anti-inflammatory, brightening, Skin conditioning agents. 
Rosa Damascena Flower Oil*
Rosa damascena mill L., known as Gole Mohammadi, is one of the Rosaceae family flowers' most important species. 
R. Damascena
 is an ornamental plant. Besides perfuming effect, several pharmacological properties, including anti-HIV, antibacterial, antioxidant, antitussive, hypnotic, antidiabetic, and relaxant effect on tracheal chains, have been reported for this plant.
(by PMC)

Laminaria Ochotensis Extract (Rishiri-Kombu extract)*
Emollient and skin conditioning. It is the extract of the alga Laminaria ochotensis. The INCI name is Laminaria Ochotensis Extract or Saccharina Japonica Extract.
Loquat Eriobotrya Japonica Leaf Water* 
Loquat (
Eriobotrya japonica
) belongs to the trees of the
Rosaceae
family. Loquat leaves are widely used in the preparation of oriental herbal teas. In folk medicine, the loquat leaves are used against various skin diseases, cough, nausea, and itching. Loquat leaves contain
ursolic acid
(
Ursolic acid (UA), a natural triterpene compound found in various fruits and vegetables. UA has a growing interest because of its beneficial effects, including anti-inflammatory, anti-oxidant, anti-apoptotic, and anti-carcinogenic effects) 
and
oleanolic acid
(skin-soothing, antioxidants), which has hypoglycaemic and antihyperlipidaemic effects. (by
NCBI
& BMJ Journals) 
Vegetable Glycerin *
It is Cosmos certified and manufactured in the EU. The raw material is rapeseed oil. After removing organic acids by saponification and the sweet liquid is purified as a non-ethanol solution.
Brown Sugar Extract*
Brown sugar has anti-bacterial features that shield the skin from harmful toxins. 
It comprises glycolic acid, which assists in eliminating dead skin cells. (by lifestylebyps.com)
HOW TO USE

Take a teaspoon and gently rub it in your hands. Apply onto the skin. It is best to apply this serum after toning the skin with a Beauty face toner. Follow with a Beauty face oil or face cream.

Keep out of reach of children. If contacts eyes, rinse with water. Do not use the product if the skin is irritated. Discontinue use of the product if you experience irritations on the skin. After opening, avoid direct sunlight, high temperature, humidity, and store in a well-ventilated area.